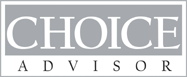 &nbsp
CHOICE Advisor is a flexible, low-cost advisor-directed account which allows virtually unlimited flexibility to independently select the appropriate mix of investments. Approved investment strategies include:
No-load Mutual Funds
Stocks
Exchange Traded Funds
Bonds
Alternative Investments
Options
Client accounts are opened through one of our approved clearing firms. When choosing the fee structure the advisor has several flexible options. CHOICE Advisor accounts have the following features:
Discretionary and Non-Discretionary trading
Asset Based or Transaction Based pricing
$50,000 minimum account size
On a case-by-case basis, household accounts may be grouped to meet the $50,000 minimum
Clients receive quarterly statements from the custodian and have the capability to receive performance reports from Kovack Advisors.
We currently have clearing agreements with National Financial Services, Pershing, TD Ameritrade and Fidelity Clearing and Custody Solutions (formerly known as IWS).
---
Copyright ©2017 Kovack Advisors, Inc.,
6451 North Federal Highway, Suite 1201
Fort Lauderdale, Florida 33308
Call us at (954) 670-0617
Email: info@kovackadvisors.com